What We Do
Telurix develops and sells a Voice-over-IP SIP application platform — the Telurix Communications Server (TCS). The TCS provides a unique set of tools for the rapid development and deployment of script controlled, SIP-enabled voice applications.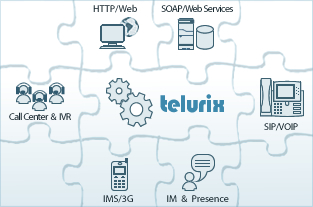 Our Product
TCS is a feature-complete SIP signaling and media processing application server. TCS integrates with Web-based and SOAP infrastructures, acting as both an HTTP server and an HTTP client.
Our Solutions
Current Telurix customers use TCS to build a wide variety of applications, including:
Programmable IVR
Predictive Dialers and Voice Broadcast
Conferencing (Standard and HD Voice)
Call Centers with integrated Automatic Call Distribution (ACD), Call Monitoring, Recording, and Skill Based Routing
Prepaid
With TCS, your development team can rapidly build a customized solution to your exact market requirements while focusing on the intent of the application. TCS manages all the underlying complexity.
Our Differentiators
Web-Controlled: The TCS is HTTP server controlled. Applications are implemented as dynamically generated XML scripts which are delivered to the TCS via HTTP or as static scripts with dynamic data (AJAX-like). This means that the same development environments that are used for website creation and maintenance can be leveraged to power voice services.
High Performance: The TCS offers significant performance on standard Intel or AMD based hardware and standard operating systems (Windows, Linux) — supporting 2,000 channels of inbound or outbound IVR on a single server.
Direct VoIP Connection: The TCS connects directly with a variety of SIP networks — eliminating the need for expensive media gateway hardware and further enhancing performance, scalability and cost efficiency.
Software Only Solution: The TCS is a software-only solution that runs on standard operating systems (Linux or Windows) and standard server hardware. No proprietary or custom hardware is required when deploying TCS. We believe that the rapid pace of advancement in standard server technology makes software-only solutions such as the TCS the most efficient and scalable platform for deploying next-generation voice services.
Latest News and Events
Telurix announces TCS 3.0
Telurix, a provider of innovative VoIP software, announces the general availability of version 3.0 of the Telurix Communications Server, a high performance SIP application server and media processing engine. This release of the Telurix Communications Server further increases performance and adds support for VoiceXML 2.1 extensions.